Nuna | COVE Aire Go Playard
by Nuna
UPC:
8720246542912
Manufacturer #:
TC11203FRT
Give baby a space of their own no matter where you are. Travel with our COVE aire go play yard that doubles perfectly as a bedside crib thanks to its slim silhouette, so you can keep them close overnight even in tight spaces.
$350.00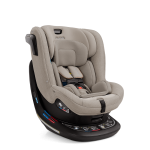 Nuna | REVV Convertible Car Seat
by Nuna
UPCs:
8720246543186, 8720246543360
Manufacturer #s:
CS13600CVR, CS13600HAZ, ...
The Nuna REVV rotating convertible car seat is ready to revolutionize your travel experience. One simple install then rotates the seat 360 degrees effortlessly for a stress-free easy-in, easy-out between adventures.
$650.00