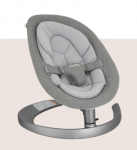 Nuna | LEAF Grow
by Nuna
UPCs:
8719743748507, 8719743748491, ...
Manufacturer #s:
SE10307GRN, SE10302OXF, ...
$300.00
Nuna | SENA Changer
by Nuna
UPCs:
8719743743151, 8719743743168, ...
Manufacturer #s:
SC4500CVR, SC04500HAZ, ...
Give your AIRE a little something extra with the Nuna SENA Series Changer. The Nuna SENA series changer easily locks onto the SENA aire and can be hung on the side of the playard when not in use.
$60.00
Nuna | Sling Bag
by Nuna
UPC:
872024656552
Manufacturer #:
SB00000ACS
Small in size but big on detail, the Nuna stroller sling bag has six inside compartments and two outside for easy access to essentials. Keep it within reach while on the go.
$50.00